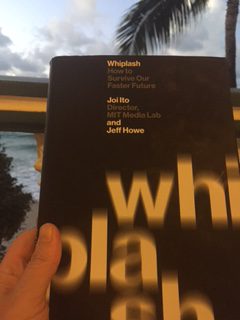 While I was away on vacation last week, I snapped this fuzzy photo and hastily forwarded it to a friend with a brief note:
"Greetings from a tropical island! Have you read this book? It's amazing!"
As you can (almost) make out from my photo, the book is Whiplash: How to Survive Our Faster Future, a fascinating new work by MIT Media Lab director Joi Ito and journalist/ professor Jeff Howe. The authors provide nine succinct "principles" that summarize recent, fundamental changes in our world. Using examples from the Media Lab and elsewhere, they suggest how to successfully navigate these changes and thrive in light of them.
Ito and Howe clarify the use of the principles this way:
"The principles are not meant to chart your path to a specific destination. They are meant as a compass that will guide your steps through the landscape of innovation, whatever your chosen field."
I am in the midst of launching a new organization (more about that soon). This book helped me think in new ways about the complex challenges the organization will tackle — why they exist and why they have not been addressed by other groups before now.
My Evernote is full of clippings from this book. Here are a couple of passages I saved:
"The [Media] Lab works on things no one else is working on, and if someone else is working on it, we move on. As George Church [Harvard genetics professor, among other things] says, if you're competing, it's not interesting."
"One of the problems is that our traditional educational system – and most of our business training – reward focus and execution, limiting the opportunity to become a 'visionary.' Too much of our training is focused on solving known problems rather than imagining and exploring.

In 'pull over push' [one of the principles] you need to be fully aware, fully present, and able to develop a very broad network through exploration and curiosity. You need a portfolio of interests and the ability to quickly respond to both opportunities and threats as they emerge. Focusing too much on the past – or the future – narrows your vision and makes you less able to respond to changes, opportunities, and threats."