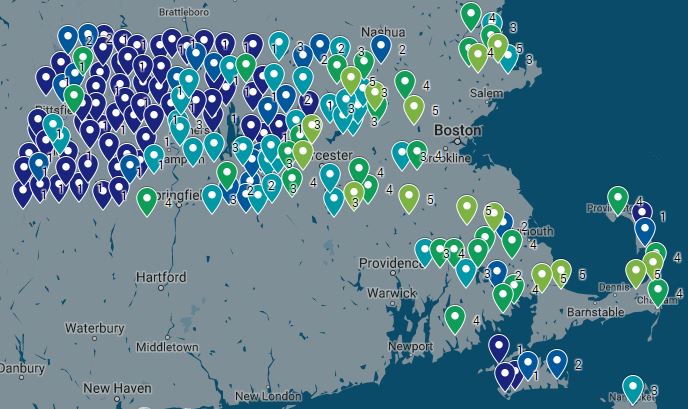 Most of the people in Massachusetts live in densely-populated areas, particularly in and around Boston. The state's other major densely-populated communities can be found the Worcester area in the center of the state, and in and around Springfield and Pittsfield in the west.  Because so many people live in these places, it is not always obvious that 170 towns in the Commonwealth – 48% of the total municipalities – are rural, with under 500 people per square mile.
There are many wonderful things about rural life in Massachusetts. There also are many challenges involved with governing and providing services in these communities. I will explore these topics in future blog posts.
For today's post, I created the map above to answer this basic question: "Where is rural Massachusetts?"
The map shows that rural communities are spread across the state. Each pin on the map represents a rural town, and the pins are color coded by population density. The swath of dark blue pins in the western and central part of the state have under 100 people per square mile. A few of these particularly rural towns also can be found on the Cape and Islands. Lighter blue and green pins represent rural towns with higher population densities. You can zoom in and access the data I used to create the map by clicking this link.